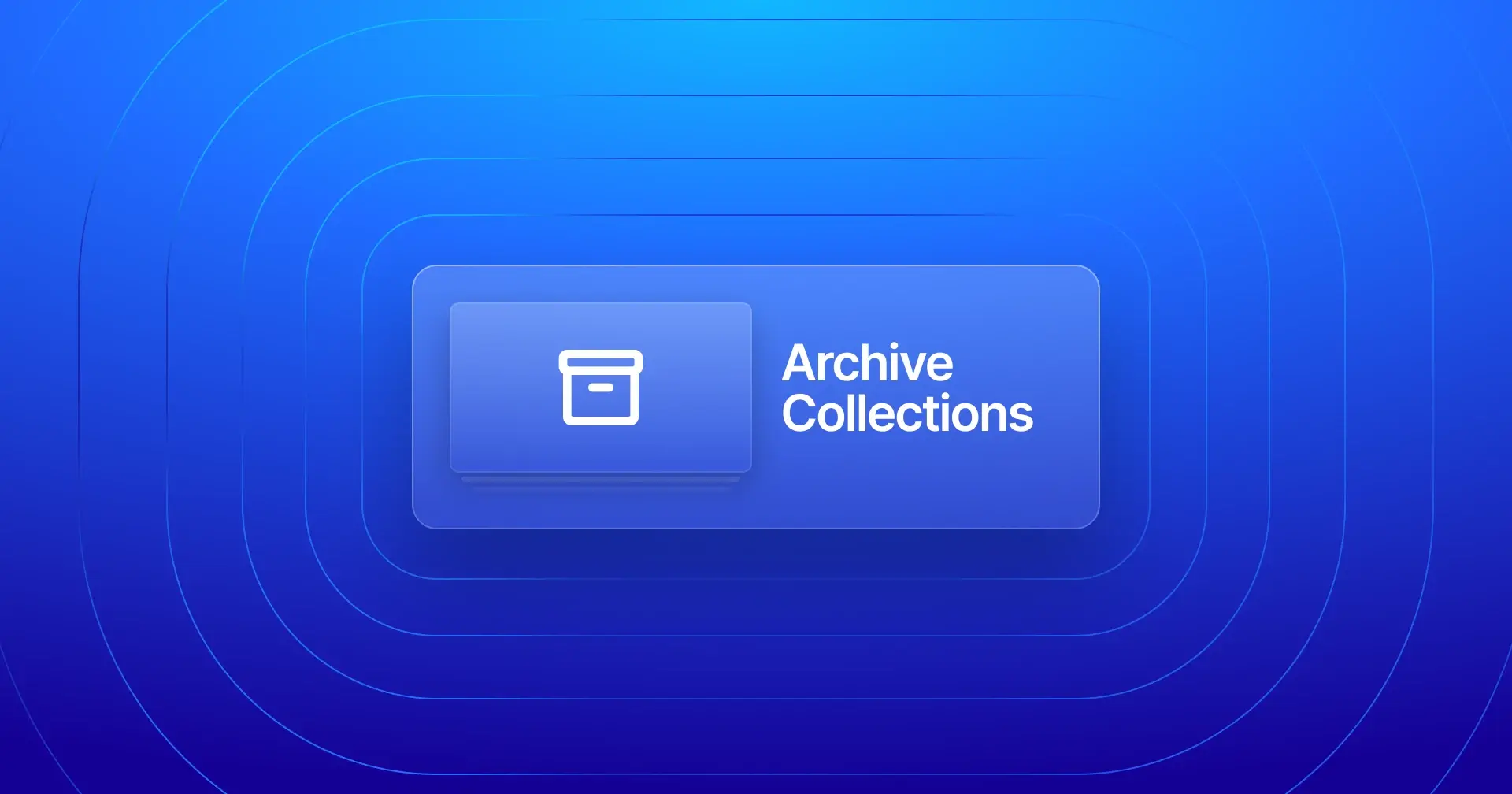 Collection and Series Archiving
We're making it easier to organize your content and make space for new creations with our latest update. Say goodbye to cluttered collections and hello to streamlined organization.
Archiving Collections
When you no longer need a collection, you can archive it to declutter your workspace. Archiving a collection archives the entire stack of collections, so any sub-collections will also be archived. If you need to access an archived collection, you can quickly unarchive it. This will restore the collection to your channel, complete with the permissions and sub-collections intact.
Archiving Series
Similarly, when a series has run its course, you can archive it to make room for new content. Archiving a series will preserve all of the videos in the series, so you can always unarchive the series if you need to bring it back.
Other fixes and improvements
Improved modal performance, transitions, and presentation
Adds the ability to select or upload custom thumbnails for Series videos
Added Miro, Word, Powerpoint, Excel, and OneNote attachment support
Fixed a layout issue on the video page
Improved the AI summary prompts UI
Improved the reliability of meeting bots
Fixed a layout issue on the homepage
Enhancements to AI-generated notes
We've made some big changes to our AI-generated video notes that improve how teams share knowledge, stay up-to-date, and reduce unnecessary busy work. Read on to see how these updates can help your team.
AI-generated recaps & action items
Along with the list of timestamped summary items, we now generate two additional categories of content when your video is uploaded:
Recap paragraph
A concise, 2 to 4 sentence summary of the recording. Great as a replacement for writing a description, and for sharing with others to quickly get them caught up.
Action items
A list of tasks and next steps that were discussed or assigned. Super helpful for keeping the team aligned on what happens next.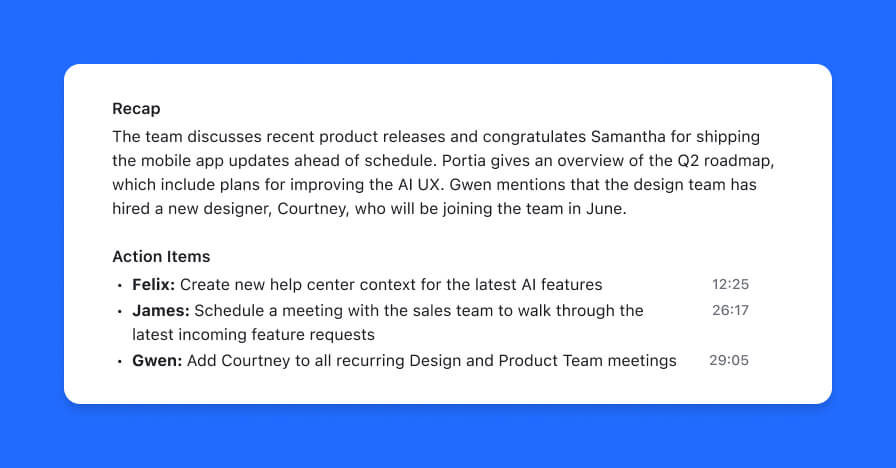 Note that In some cases – mostly for short videos – recaps and action items aren't automatically generated, you always generate these using the new "Settings" options discussed below.
Improved organization of the summary items
The initial version of our AI summaries worked well, but the quantity of items could be overwhelming, especially when generated for longer meetings.
We've improved this by grouping summary items by topic when the list grows too long. The topic list is organized chronologically, and provides an easy-to-consume synopsis of what happened during the recording. Each topic can be be expanded to reveal more detailed summary items, complete with linked timestamps that make jumping to specific moments in the video a breeze.
Notes settings and actions
Video owners and channel admins can now toggle the visibility of any or all of the AI content sections, which provides more control over what content viewers end up seeing.
When the AI didn't quite get things right, video owners and channel admins can now regenerate each section.
Alongside those actions, all members will see the option to copy a nicely-formatted version of the section to their clipboard for sharing outside Rewatch.



Other fixes and improvements
AI-generated notes are included in search results
Added support for Lucidchart and Lucidsparks attachments in the video descriptions
Improved the layout on the integrations page
Performance improvements for page navigation and video lists
Redesigned notifications page with a focus on improving accessibility for screen readers
Added new auto-record settings to the Meetings page
Added pagination to the collections view for channel admins
Added a channel setting that allows Google Workspace administrators to activate Google Calendar integrations for all channel members
Added a Zoom integration setting that enables automatic deletion of Zoom recordings after they have been imported into Rewatch
Fixed an issue where the jump menu would occasionally fail to open when clicking on the search bar
Fixed an issue where clicking on a keyword in a notification would result in an error
Fixed a redirect issue that would sometimes occur when deleting collections
Fixed an issue where Zapier OAuth would occasionally fail
Fixed an issue where selecting a transcription language would fail to save correctly
Improved transcript link accessibility for screen readers
Added list semantics to user menu links
Copy actions now provide feedback for screen readers
Improved screen reader accessibility for subtitles in the video player
Search and Navigation Updates
Jump menu
We've added a new jump menu that allows you to navigate our app easily. You can open the menu from anywhere using the keyboard shortcut ⌘+J (or CTRL+J on Windows).
You can see your recent searches and recently visited locations from the jump menu, or jump to teammates, collections, or tags. Plus, you can start a new search without leaving your current page.
Improved filtering
Refine your search with tabs
You can now filter search results using tabs, making finding what you're looking for even easier.
Better filters for video search results
You can use multiple participant and collection filters when searching for videos, which helps you quickly find meetings where participants overlap.
Add a group as a participant filter
Need to find all of the videos by the sales team? No problem! You can even apply a group as a filter.
Comment searching
Lastly, we've added the ability to search across comments, making it easier to find conversations related to specific topics.
Other fixes and improvements
Added a click-to-copy button for AI summaries
AI summary optimizations and improvements
Added the ability to download a plain text version of the transcript for videos and clips
Updated the design of the embedded player
Enabled ability to copy thumbnail links for clips
Meetings page now shows auto-record settings, and recording status updates
Meeting bot improvements and fixes
Improved video page scrolling performance
Improved transcript controls for guests
Fixed an issue where creating a highlight on a clip was not showing the snippet in the slack integration.
Fixed an issue where attempting to manage the transcripts would sometimes result in an error
Fixed an issue where long video titles weren't wrapping when being edited
Fixed a bug in the synced meetings filter that was causing non-synced meetings to display
Fixed an issue where video attachments weren't being shown after save.
Improved screen reader accessibility for grid items & avatars
Improved screen reader accessibility for the video player
Improved the accessibility of the app sidebar
Improved accessibility of the play highlight button
Improved the accessibility of dialog modals
Automated AI Summaries
Automatic AI-powered summaries are now available for all your videos. Now, every recording that's added to your channel will summarized into a list of key points, each with a link to the moment in the video where it occurred.
We tested this feature internally for a few weeks, and it quickly made a huge impact on how we work together. Here are a few reasons we think you'll like it too:
Forget the tedium of recapping your recording. Stop spending time and energy transcribing your notes and writing comprehensive descriptions before sharing your recording. AI summaries take care of that as soon as the video is ready.
Catch up on meetings you didn't attend. No more wondering what happened during a meeting. Quickly scan the meeting summary to get a quick overview of what transpired, and jump to any moment that you need to see for yourself.
Keep track of what happened, even after it happened. Summaries aren't only useful for immediate recaps, they also provide an easy-to-reference overview for when you need to find that time you talked about that thing.
Summaries will be automatically generated for every new recording you add to Rewatch. You can also generate them for your existing videos by navigating to the video page and clicking the "Generate Summary" button below the description.
Other fixes and improvements
Added ability to copy a thumbnail link for clips
Improved the accessibility of the main app sidebar
Improved the accessibility of the play highlights button
Improved the behavior of reactions in the series player when the transcript has not been truncated
Fixed an issue where long video titles weren't wrapping to a new line after being edited
Fixed an issue causing non-synced meetings to display in the "synced only" meetings filter
Fixed an issue where the edit details page was causing errors on clips that have changed permission
Use emojis to react to a video while you watch
Sometimes it feels like it's too much to post a comment just to say: "nice", "love it", or "great job" — so we end up just not saying anything at all 😢. With emoji reactions you can now immediately express sentiments like these while watching any video on Rewatch with just a click or a tap 👏.

To start, we've baked in a handful of reactions for you to use:
❤️ - Great for saying "love it", expressing solidarity, or thanks
🎉 - Share in a celebration or express your excitement
👏 - Applaud someone's efforts or say "great job"
😆 - Chuckle along with someone or add some levity
🤯 - Share your surprise or stand in awe of someone's work
😢 - Commiserate over a tough moment or loss
When you react, you're giving a bit of feedback, acknowledgement, and energy to whoever's taken the time to share with you via video — that can mean a lot. That's why in Rewatch, reactions don't just sit there for nobody to see, they're actually delivered to the recipient as positive vibes that animate for them to enjoy.

So the next time you're feeling happy, excited, thankful, or anything else when watching a video, be sure to share a reaction — you'll brighten someone's day!
Other fixes and improvements
Added video analytics for Series videos
Added support for translating transcripts to Tagalog
Added menu option to copy a video link from its thumbnail and in the video library
Added ability to connect a secret collections to a private Slack channel
Improved playback controls for video players
Improved video transcript layout and their action menus
Improved controls for managing which collections a guest can access
Improved accessibility of mobile navigation menu
Improved reliability of automated meeting recording
Fixed an issue where clicking on a dropdown inadvertently selected all the text
Fixed an issue with the form for getting a linked timestamp
Share portions of your video with clips
Today we are introducing Clips, a new tool for sharing and organizing your video content. With clips, you can select specific moments from your video in order to share with others, initiate a side conversation, or add to a collection.
Want to share a portion of a private meeting with your team? Need to discuss a moment with only a few members of your channel? It's now possible. And, the actions you take on the clip – publishing, commenting, even deleting – won't affect the original video.
Here are a few ways we've been using clips at Rewatch:
Share a moment, and keep everything else private. There are times when a private video includes a moment that would be nice to share with others. Now you can create a clip to share with the team, while still keeping the rest of the video private.
Focus the conversation. For moments that require deeper discussion, using a clip can be an effective way to foster a focused, in-depth conversation. This works great when a team needs to collaborate on a single idea or topic, as well as way of providing targeted feedback on a sales call or customer interview.
Compile a topical video repository. Clips are a great tool for building a curated, topic-based collection of content. Whether it's customer success stories, sales calls strategies, or anything else, clips let you isolate relevant moments to keep your collection focused and easy to navigate.
Learn more about using Clips in our help center.
Other fixes and improvements
Improved the screen reader accessibility of the like and queue buttons on video thumbnails
Improved the resolution of embedded video thumbnails
Updated the behavior of the edit video details page to always navigate to the video after saving
Updated how fonts are handled on Windows
Fixed an issue where the "link only" option in the link access dropdown wasn't enabled when videos were private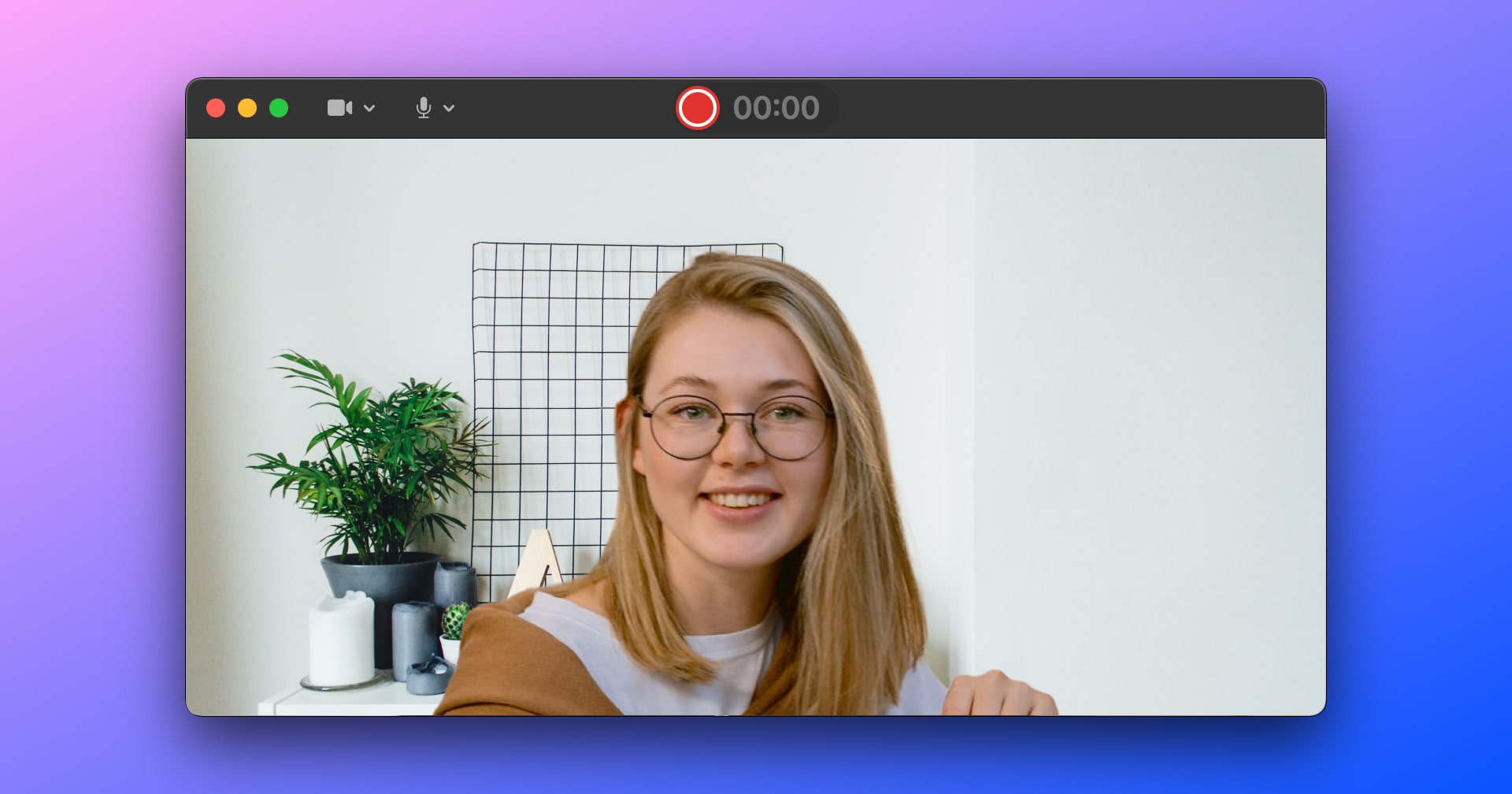 Desktop Camera Recorder
We have added the ability to record via your device's camera using our Mac and Windows desktop recorders. This change makes it easier than ever to create quick video updates and messages on Rewatch. This is especially handy if your team is using a Series to replace stand-ups and other repetitive status meetings.
As always, you can also use the desktop app to record your screen, create a quick canvas presentation, or record a GIF. Download the Rewatch desktop app today!
Other fixes and improvements
Disabled the "Post comment" button when uploading an image to avoid upload errors
Fixed a bug when uploading videos from the "Edit collection" page
Video uploaders can now embed their private videos
Updated the video publishing flow to reduce unintentional publishing
Updated the API to improve uploading of large files
Added Afrikaans to list of supported languages for translation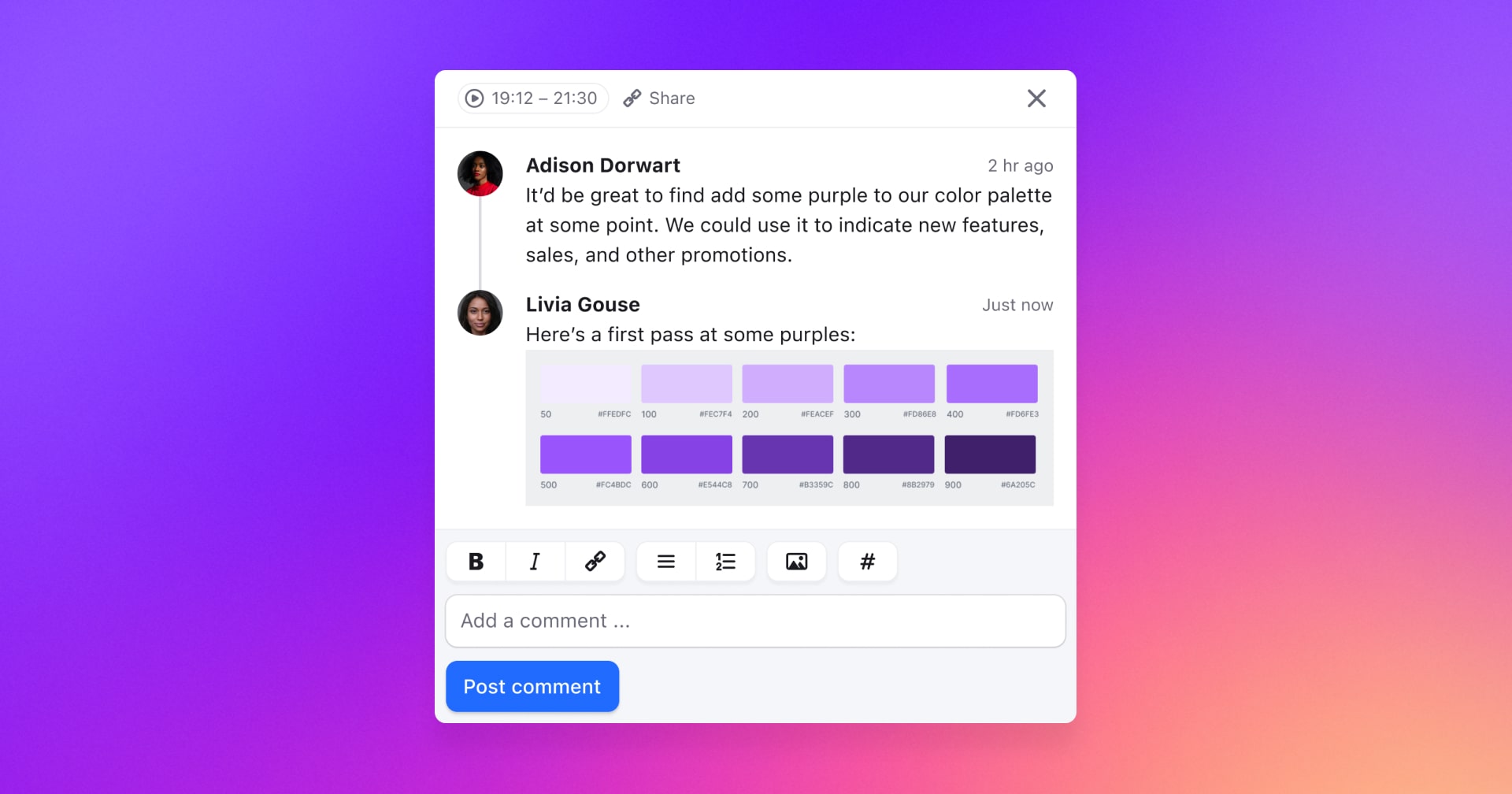 Images in Comment Threads
It's been said that a picture is worth a thousand words. If so, consider this another way Rewatch is helping to save your team time: it's now possible to add images – even GIFs! – in comments. This is something that we've wanted for a while, and we're happy to say goodbye to the days of halting a thread once it requires something visual.
Other fixes and improvements
Added a default title to transcript highlights
Added a message to the video page to indicate when a video fails to upload properly
Improved screen reader accessibility of the navigation sidebar
Fixed a bug where unpublishing a video removed the people who it was directly shared with
Fixed a bug where the button that lets you hide your video offscreen was not displaying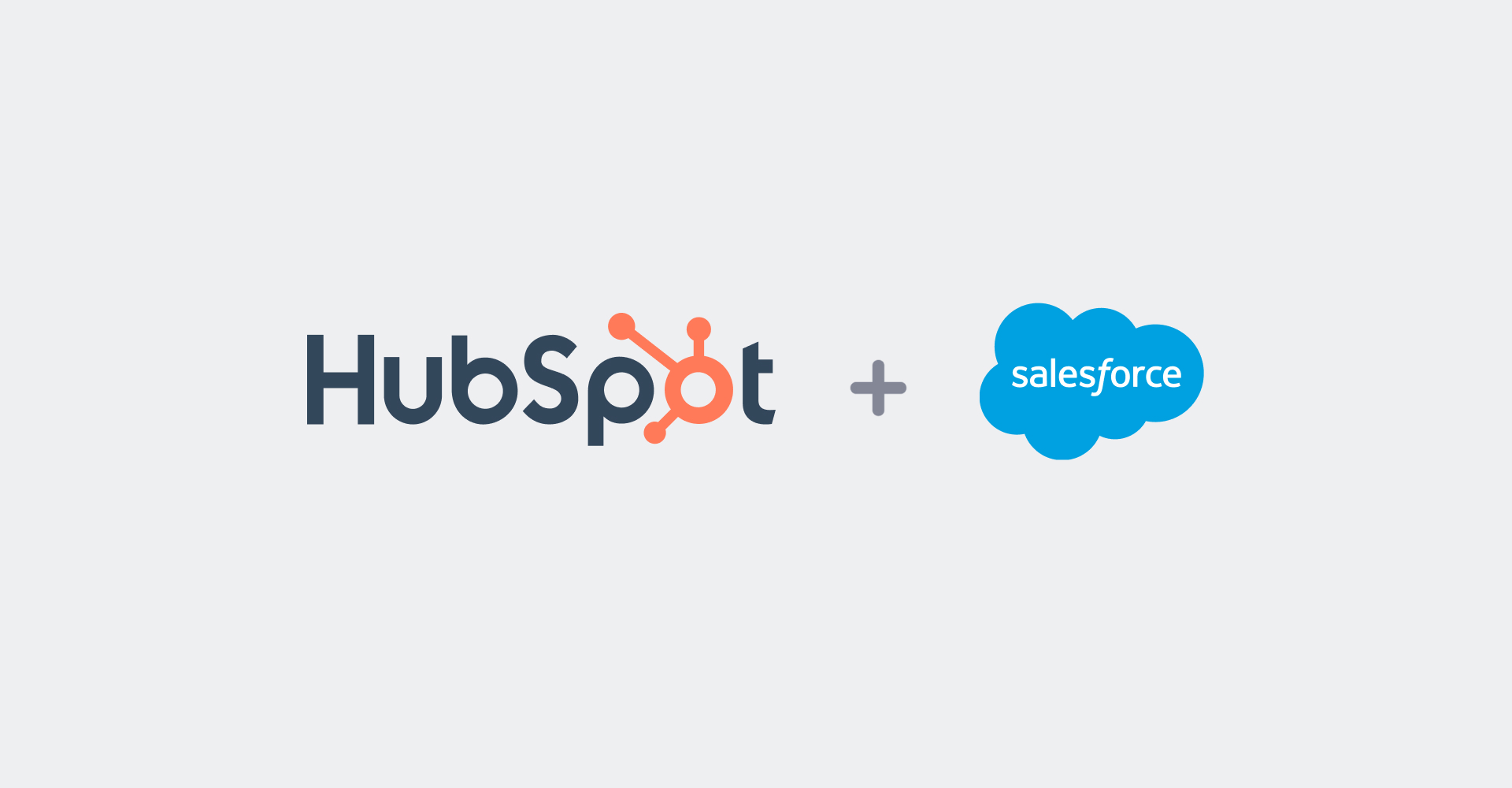 Hubspot and Salesforce Integrations
Good news if you spend a lot of time bouncing between your calendar, Rewatch, and your CRM software: Rewatch now offers integrations with both Hubspot and Salesforce. With these enabled, Rewatch will create a Hubspot/Salesforce event when it finds a meeting on your calendar that includes a contact from your CRM.
To enable this feature, have your channel admin connect your CRM software via the Integrations tab in the Rewatch admin console.
Other fixes and improvements
Added a message to indicate when a video's transcript has been edited, and by whom
Updated the homepage navigation to group together content on the sidebar
Added horizontal scroll controls when the series list on the home page gets too long
Improved the description of "impressions" on the analytics page to make the data more understandable
Created a link in the profile dropdown that gives group members of a view of the groups they are in
Fixed a bug where using the spacebar was causing the series play to act abnormally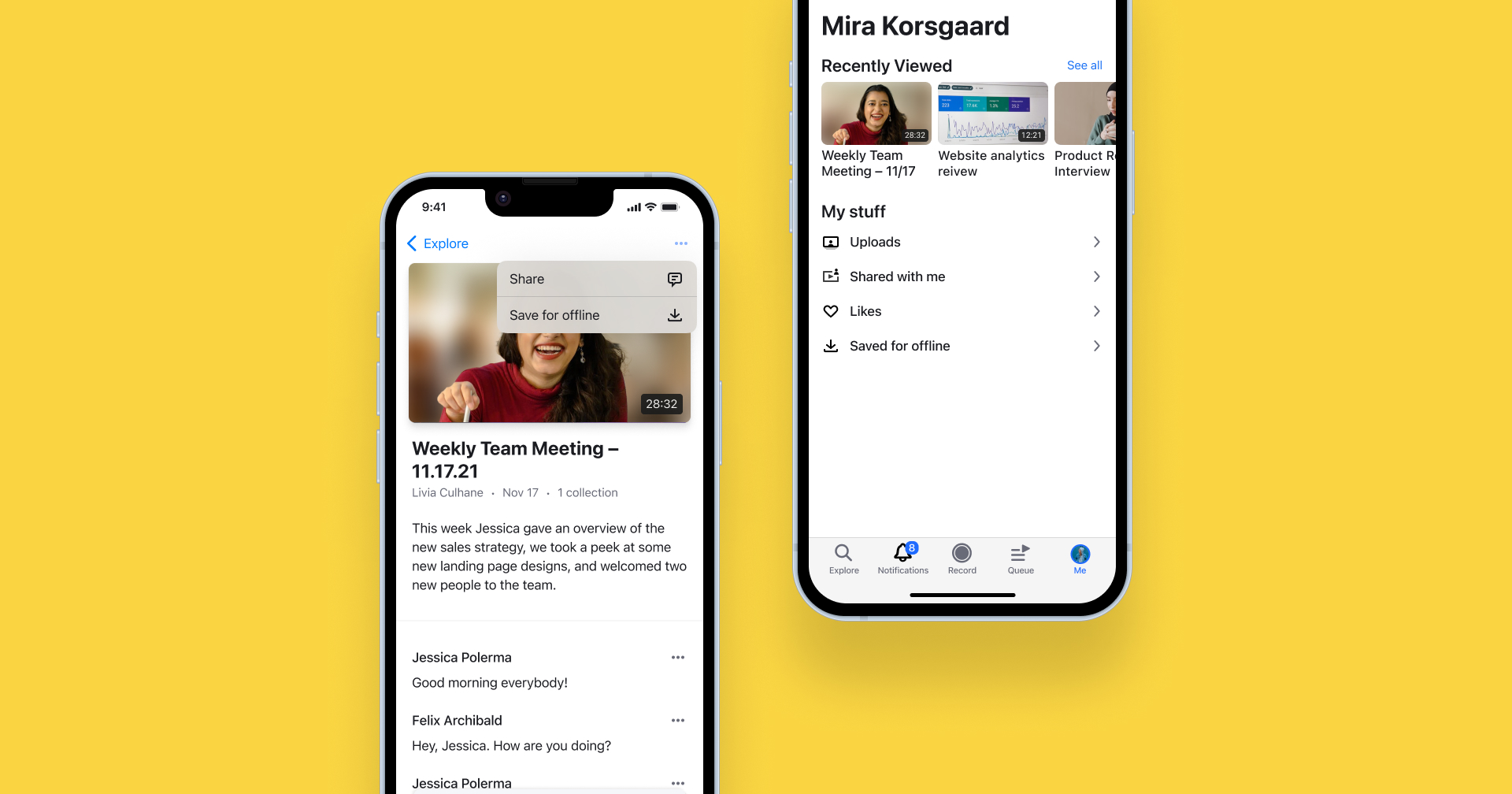 Download videos for offline viewing
Just in time for the holiday travel season, our mobile apps now give you the option to download videos so you can watch them even without an internet connection.
The Rewatch app for iOS and Android now supports offline viewing for all videos. Simply navigate to the video, and select "Save for offline" from the ellipsis menu in the top right corner to download your video.
All of your "saved for offline" videos can all be found in the new and improved "Me" tab, along with your video uploads, likes, and recent watching history.
Don't have the Rewatch mobile app yet? Head to the Apple App Store or Google Play Store and download it today.
Showing 1 through 10 of 65 results